Heat Setting Machine(Single Pass,Double Pass,Three Pass,Four Pass)
2017-11-22 15:04:15 Scource:Dezhou Deguan TextileMachinery Co.,Ltd. Click: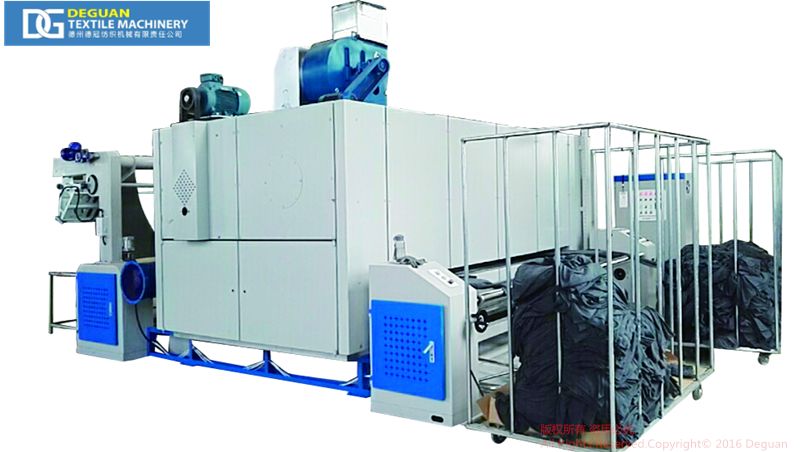 Introduction
The Tubular Heat Setting Machine is used for processing tubular synthetic fabric, The machine makes synthetic and mixed fabric to obtain stable size with high temperature inside of chamber.
The fabric is heated in the heating chamber and get cool process when exit of machine.
We can offer popular two machines according to the width of the heating chamber: DGDX2400, DGDX3800.
DGDX2400 machine has two work modes: double and single.When processing a narrow fabric. the double pass mode is adopted; When processing the wider fabric, the single pass mode is adopted. We can also offer you three-way mode to work.
DGDX3800 machine adopt dual driving control mode and working mode can be designed by your requirement.
You can customize the mercy, volume, cutting knives, and doubles.
We can offer the following five different machine according to the normal heat source:electricity, thermal oil, natural gas.
We make sure that we can deal with all process better in terms of energy saving and consumption,
We will try to save cost for customer and make you get profit from this.

* The machine also can be designed in the heat source of electricity and natural gas.
** The machine can not be used to process cotton fabric.
Basic Info & Technical Data
1. Main Matching Fabric

Tubular chemical fiber

2. Max. Working Width:

300mm~3000mm

3. Supporting plate

Manually regulate

4. Machine Speed

3-20m/min

5. Chamber Width

2400mm

6. Power Supply

380V·3P·50HZ

7. Main Color

Blue/Customize

8. Weight of Machine

DGDX2400 Weight : 6T
DGDX2800 Weight : 7T

9. Drive installed capacity

DGDX2400 : 14.15kw
DGDX2800 : 17.65kw

10. Heat-setting Type

Hot air circulating

11. Fabric Breadth control

Manually regulate

12. Driving type

Independently drive(single)

13. Temp. control type

Auto control

14. Compressed air

0.35-0.6MPa

15. Dimension

DGDX2400 : 5700*4100*3000 (L*W*H )
DGDX2800 : 5700*4900*3000(L*W*H )
Advantage:
We possess the upgrade and design ability with our professional technical team, your customized design could be changed into drawing.

With advanced technology and best quality, we make sure that you can get satisfied products based on our pleasant cooperation.