Calender (Vertical Calender, Textile Calendering Machine)
2017-07-04 18:06:00 Scource:Dezhou Deguan TextileMachinery Co.,Ltd. Click: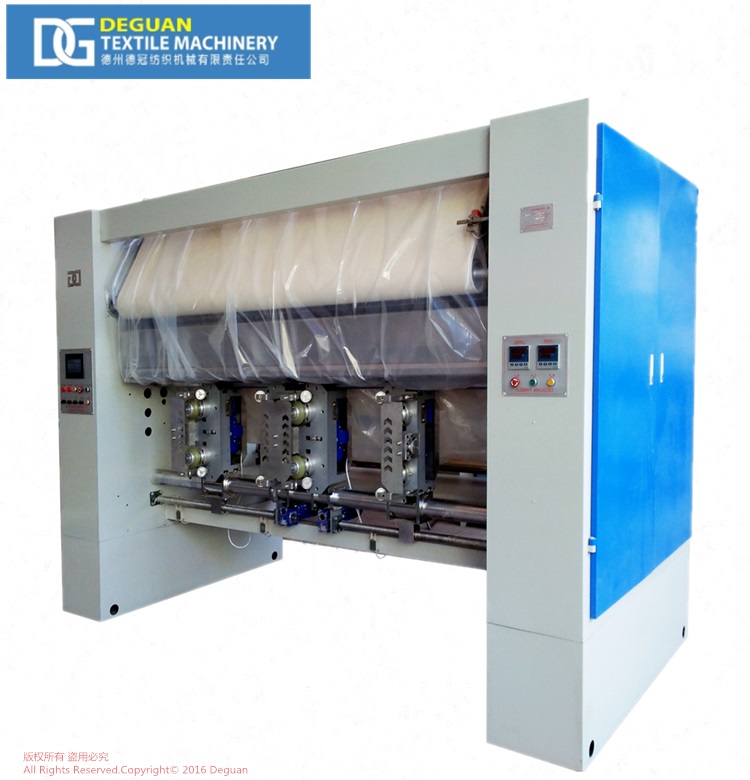 Introduction
The Calender machine is used for processing cotton and cotton-blend tubular fabric. It equipped
with reinforced support plate, 14mm thickness of NOMEX blanket and mechanical folding machine.
After processing with this machine, the fabric could reach certain size and smooth appearance.

The Calendering Machine is an economic and easy operation model of textile machine. It can meet
normal requirements of fabric processing.

The Maximum width of the fabric: Single 1500mm; Dual 2x800mm
We can provide the following machine based on different heat sources: Steam / electricity + oil.
Steam-heated drying cylinder is 140°C Max and the temperature of other heat source could reach 180°C.
The Calender machine can process thick fabric (three-layer insulation fabrics).
Basic Info & Technical Data

Working width
1450mm(cylinder length 1550mm)
Machine speed
3~30m/min
Technical speed (actual speed when working)
15-20m/min(depends on process)
Steam box steam consumption
60~100kg/hour
Temperature control precision
±1
Cylinder heating pattern:
steam heating(consumption:4-6Kg/cm²steam 80-100Kg/H;)
Electric oil
(consumption:25-30KW/H)
Recycling oil
(consumption 30000-50000Kcal/ H)
Machine Power
Steam heated
10Kw
Electric oil
46 KW/H
Circulation oil
10Kw
Dimension(L*W*H)
6400X2750X2250mm
Weight
4.5tons
Advantage:
We possess the upgrade and design ability with our professional technical team, your customized design could be changed into drawing.
With advanced technology and best quality, we make sure that you can get satisfied products based on our pleasant cooperation.